DIY: Creating a Spotify Playlist to Promote Mindfulness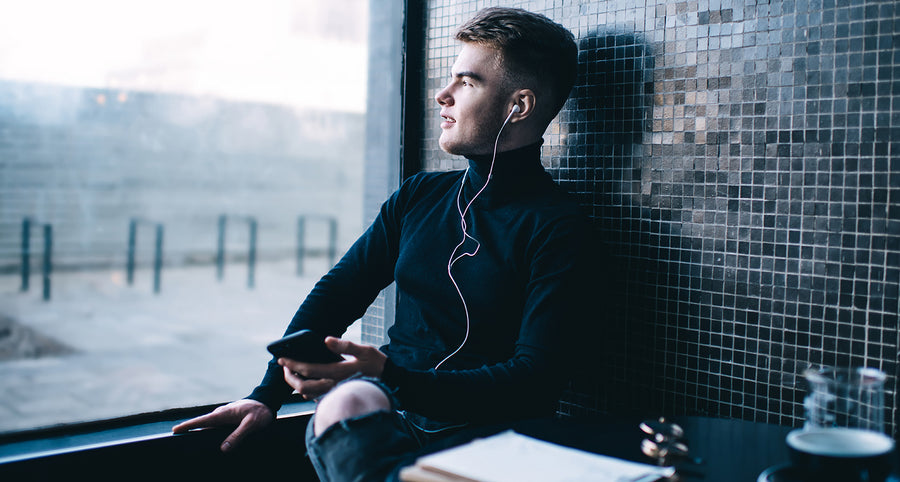 Mindfulness is a hot topic these days, especially since people feel more stressed than usual due to the COVID-19 pandemic. Mindfulness helps bring peace and rest to your life by encouraging you to focus only on the present moment. 
Sounds amazing, right? 
Pro tip: Listening to certain music while practicing mindfulness can completely elevate your experience!
Interested in creating a mindfulness playlist but not sure where to start? We've got you. We pulled some of our favorite songs on Spotify to create your very own mindfulness playlist. But first, let us dive a little deeper into mindfulness itself.
Why is Mindfulness Important?
Mindfulness can help us improve our ability to handle anxiety and stress. The practice focuses on immediate surroundings, feelings, and thoughts. We allow ourselves to feel and experience things in the moment with clarity and focus. By keeping a close focus on our thoughts and feelings, we increase our ability to manage them better without becoming overwhelmed.
Spotify & Chill
Getting in a Mindful, Meditative State
While it's technically possible to practice mindfulness wherever you are, it's much easier to meditate if you remove distractions and create the right "mood." You can achieve this by doing the following:
Sit comfortably in a quiet environment

Close your eyes

Focus your attention on your breath

Note how your body moves each time you inhale and exhale
To fully get you into relaxation mode, it's time to bring in the music. Here are a few great songs from the best playlists on Spotify for mindfulness.
Snow Mountain – Tommy Berre
As the name suggests, this track brings to mind visions of pure white snow, blanketing hillsides, and sleepy towns. Acoustic guitar steals the show and brings you a calm and gentle melody that will help you relax and feel at ease.
Almost There – Ixonia
The lilting voice of a soft piano fills your ears when you listen to this simple piece. The melody is a bit unexpected but simultaneously soothing. It's also just under two minutes long, which means it's the ideal selection for your quick, last-minute mindfulness sessions.
Bliss – A Slower Tempo
We can't think of a more perfect name for this track. Bliss starts out with deep, meditative tones overlapped by a hopeful melody. The song maintains a slow, comfortable tempo throughout, perfect for helping you achieve—and keep—a meditative state.
First Light – Billy-Joe
Prepare for a gently immersive meditation experience with this enlightening song by Billy-Joe. The gentle guitar sounds are intermingled with instruments we can't quite place. The end result is an other-worldly experience that feels positively transcendent.
By the Sea – Denis Turbide
By the Sea is a bit more upbeat than some of the other meditation tracks. It features a happy guitar duo that works together to create an optimistic feeling. This is a great track if you feel a little down and want to meditate while infusing your eardrums with a joyful and comforting tune.
Time Will Tell – Lea Lewis
Like a beautiful secret waiting to be discovered, this lovely song triggers feelings of contentment and reassurance. It includes a few pleasant surprises along the way, as the understated melody becomes more playful and unexpected in the middle of the piece.
Revolve – Crimson Memoirs
Like the world revolves on its axis, this song brings to mind how our lives revolve. It stirs up images of floating through space and time with no worries or anxieties to disturb us.
Days Gone By – Tiny Rhino
This song celebrates the beautiful passage of time and the memories we hold onto forever. The sweet melody promotes stillness and peace of mind.
Morpho – Ali Toygar
This beautiful work seems to draw inspiration from the classics. It's simultaneously energizing and thought-provoking.
Truthful – Cassandra Millen
When life feels overwhelming, turn on this delightful song. It's a pleasant piece that softly works its way into your psyche and lulls your anxieties to sleep.
Mindfulness is an incredible way to center yourself and begin feeling in control. Take the time to fully immerse yourself into the practice and enjoy the peacefulness each song brings. As time goes on, add more songs to your playlist, so you have a vast list to choose from!