Our Favorite Virtual Workouts to Try During Quarantine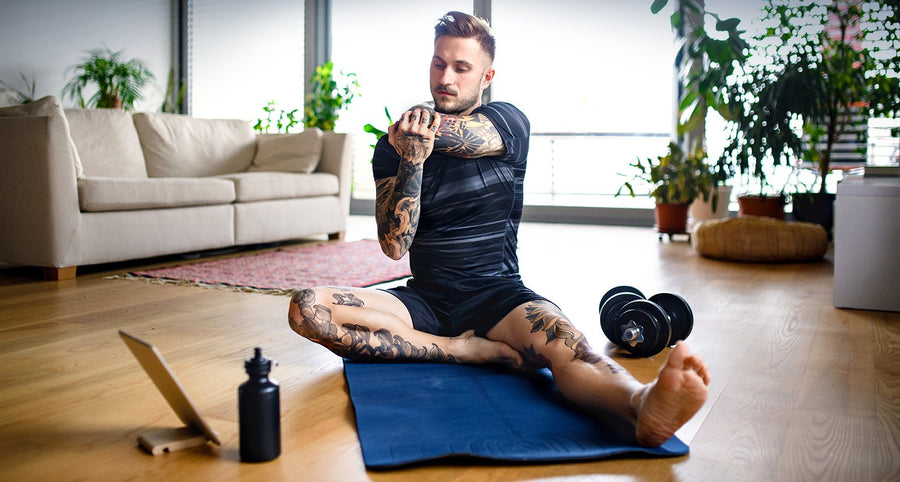 These days, getting healthy and staying fit is as easy as downloading an app or opening YouTube. Due to the current state of the world, working out in public gyms or in big groups may be paused, but your fitness and wellness goals don't need to be! Instead, you can join free workout programs virtually, from the comfort of your own space. Here are a few of our fav home workouts to inspire your next sweat sesh.
Benefits of Working Out at Home
Some of the best workouts you'll ever experience exist within apps and websites. And even better, they allow you to have the freedom to get in a workout whenever you have extra free time. Have a family? No problem! The kids can play in the next room while you enjoy a little "me" time. Busy day? Grab a 30 minute lunch break with a home gym yoga practice. You're in control of the rules and times you exercise. In the comfort of your own space, you can have the confidence to try something new and explore workouts you may have never tried before! Pro tip: practice consistently drinking water throughout the day to keep yourself hydrated and energized during your workouts. 
Best Studios Online:
AloMoves
AloMoves has something for everyone. If you're a beginner stepping into the virtual workout world, or if you're looking for a challenge, you can get the total studio experience at home. AloMoves offers thousands of different classes so you can have the best at-home workout experience for you. The four main types of workout classes are yoga, fitness, mindfulness, and skills. From the meditation of a healing sound bath and classical Vinyasa to Daily Crush and Strength Building, AloMoves offers workouts for fitness newbs to the totally toned and everybody (see what we did there?) in between. Best of all, it's all easily sorted into different levels just for you. AloMoves makes finding the perfect classes fast and easy so you can get started on your fitness journey.
Best Studios Online:
P.volve
P.volve offers more than 200 different exercise videos. It's easily accessible and allows you to find a structured fitness plan perfect for your needs. The workouts are often resistance-based and high-intensity, with a focus on connecting your mind to your muscles. Choose from low-impact movement designed to strengthen and sculpt your muscles, or do a 55-minute HIIT workout. P.volve offers one-on-one training sessions, if your accountability is taking a break or you need a little extra motivation and direction. P.volve sends you daily recommended workouts, or you can choose your own path. These are some of the best workout videos to energize your entire body.
Instagram Workouts:
@whitsich
We love working out with Whitney Sicher because she is so relatable. She makes workouts fun and your fitness goals achievable. She's a mom who finds the time to help others in their fitness journey by sharing exercises from her own gym. Workouts with Whitney are great for beginners and ex-gym rats, tackling all fitness levels. If you need to learn the proper way to lift weights or the best way to do cardio, she's got your back. Whitney Sicher has the best workout videos ranging from 24-minute abs to lower-body HIIT exercises. And, be sure to check out her highlights for past workouts.
Aubre Winters is an enthusiastic woman sharing some hardcore workouts with you. Winters understands it can sometimes feel exhausting consistently working out at home (hey, we're only human) but encourages her followers to not give up on their daily fitness. She keeps you energized and moving with her fun personality. Aubre offers great fitness videos like Sweaty Sculpt and Dance Cardio Sculpt. All of her virtual classes get your heart rate up while making you smile.
The best at-home workout for you is the one you do! Push yourself to try something new — nobody's watching. So, get moving and get your fitness on. Ultimately, the most important thing is to find the at-home workout right for your body. And always remember to have fun while you get your sweat on!