What Should I Eat During a Cleanse?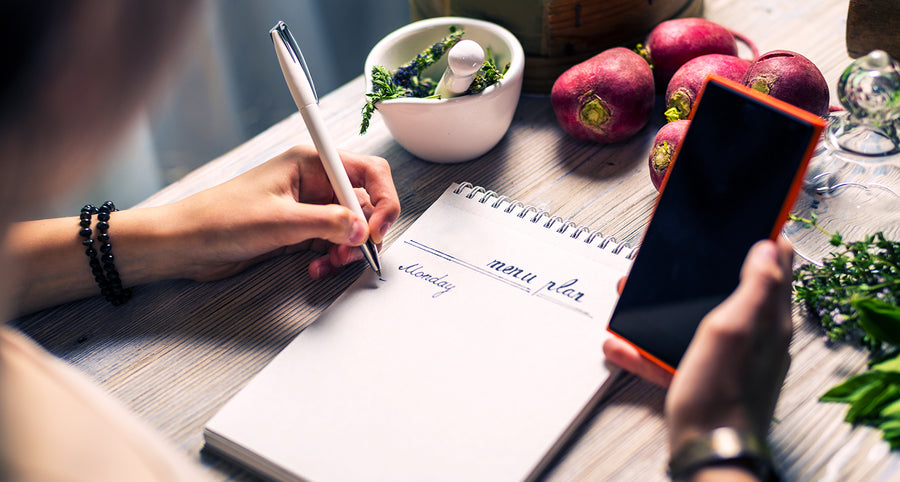 By escorting toxins out of your body through a cleanse, you're making room for good bacteria to thrive and perform their intended functions. While a cleanse itself is highly beneficial, you can further enhance it by eating alllll the right things. We want your health to thrive, so keep reading for some tips on how to kickstart your cleanse and the best foods to eat during it.
How to Know if You Should do a Cleanse
Practically everyone can benefit from doing a cleanse, especially if you are experiencing random red flags with your health. Here are a few indications your body may respond well to a cleanse: 
Increase in skin problems (including acne, rashes, etc.)

Fatigue

Unexplained headaches

Scent and taste intolerances

Digestive issues (including diarrhea, constipation, bloating, etc.)

Lower back pain

Frequent illnesses

Weight gain

Depression
If you're experiencing any of the above (which we can confidently say we all have at least once), you may be able to improve the way you feel with a gut cleanse.
Best Weekly Meal Plans for Cleanses
When you're doing a full-body cleanse, you also want to make sure you're eating a healthy diet. Here are a few suggestions for ingredients to include within your weekly diet.
Vegetables
Vegetables are nourishing for your body and tend to have high fiber content. Fiber is essential while cleansing because it helps add bulk to your stools. It also works well with our digestive tract detox to "pick up" waste products on the way out of the body.
Lean Proteins
Eating lean proteins during your cleanse can help you maintain your energy levels and avoid losing muscle mass. Examples of good protein choices to consume in your weekly cleanse plan include chicken, fish, eggs, and turkey.
Seasonal Fruits
Seasonal fruits are key because they can help minimize your cravings for those sugary treats we all know and love. Eat them daily.
Healthy Fats
While following a cleanse, don't forget to consume healthy fats. Some of our faves are olive oil, nuts, and avocados.
Whole Grains (Unrefined)
Complex carbohydrates found in whole grains can help you keep steady energy levels throughout your cleanse. Some good choices include quinoa, barley, amaranth, oats, millet, rice, tapioca, and buckwheat.  
Daily Meal Plans During a Cleanse
Now that you know what types of foods you should incorporate into your weekly meal plan while cleansing, here are a few specific meals you may want to try. Feel free to eat them each day during your detox period or mix them up with other healthy options.
Breakfast: Green Detox Smoothie
Ingredients: 
3 cups baby spinach

3 cups frozen diced pineapple

1 celery rib

1 cup frozen banana (diced)

1 Tbsp. chia seeds

1 Tbsp. fresh ginger (grated)

Juice from half a lime
Directions: 
Put all ingredients into a blender and pulse until well incorporated. Add water as needed to thin the mixture.
Lunch: Detox Salad
Ingredients:
1 avocado (peeled and quartered)

4 large carrots (peeled and sliced)

2 medium golden beets (peeled and sliced)

3 Tbs. sesame seeds

½ cup sprouts or microgreens

¼ cup chopped cilantro

4 cups baby spinach, arugula or other mixed greens of your choice
Directions:
Place the peeled and sliced carrots and beets in a steamer basket and steam over boiling water for about 7 minutes or until tender.

Place the quartered and sliced cucumber in a large mixing bowl. Toss with cilantro, half of microgreens or sprouts, and sesame seeds. Set aside.

Rinse the steamed beets and carrots under cold water. Strain well, then toss them with the cucumbers.

Arrange the mixed greens on a plate and drizzle with the dressing of your choice. Top with carrots, beets and cucumbers. Garnish with sliced avocado and remaining sprouts.
Dinner: Pan-Roasted Pomegranate Salmon
Ingredients: 
2 Tbsp. extra-virgin olive oil

1 lb. brussels sprouts (halved)

2 Tbsp. pomegranate juice

2 Tbsp. pomegranate molasses

2 Tbsp. sweet chili sauce

2 cloves garlic (minced)

1 lb. wild-caught salmon

½ tsp. fresh ginger (grated)

1 pinch red pepper flakes

Salt and pepper (to taste)
Directions:
Preheat oven to 425⁰

Combine the olive oil, a pinch of salt and pepper, and brussels sprouts on a large rimmed baking sheet. Toss to coat evenly. Place in the oven for 15 minutes.

Combine pomegranate juice, molasses, sweet chili sauce, garlic, ginger, and a pinch of salt and red pepper flakes in a small bowl.

Remove brussels sprouts from the oven. Place salmon in the center of the pan—drizzle pomegranate glaze over salmon. Place the pan in the oven and roast for 10-20 minutes (or until salmon is done).

Dish onto plates and enjoy.
What Are the Benefits of Doing a Cleanse?
There are many pros of gut cleanses, which is why so many health-conscious individuals do them regularly. Some of the most notable benefits include:
Improved mood

Boosted immune system

Relief of occasional bloating, gas, and cramps

Reduced risk of colon cancer

Improved ability to lose weight

Improved liver function

Increased energy
Read more about our herbal cleanses and find the best one for you. In conjunction with some of the above meal recommendations, you'll soon discover how the best cleanse diet can help you feel and function better.