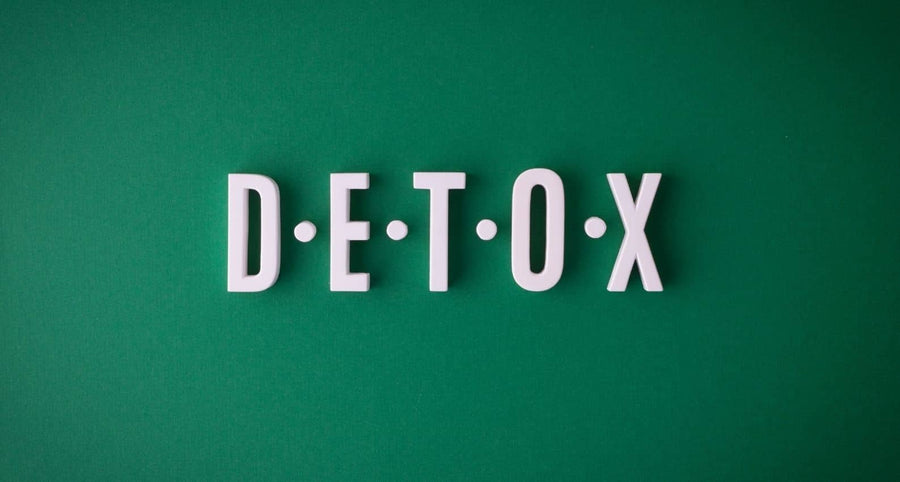 Maintenance is key to staying lean, mean, and thoroughly clean.
↓
share
Life is messy, literally and figuratively. Eating well, mindfulness, and maintaining a peaceful home sound great in theory. In practice? When your toddler's bossing you around and your boss is acting like a toddler, it can be hard to treat your body like a temple and your home like your castle. Both need a deep clean. Here's how to get it done. 
Detoxing Your Mind 
Detoxing your body benefits you from head to toe. Still, before you even think about detox drinks or throwing away all those bootcut jeans that no longer spark joy, you need to get your mind right. The following are three good places to start.
Take a Social Media Sabbatical
As fun as watching NBA highlights on TikTok or stalking Real Housewives on Instagram, regular social media use is not great for your mental health. A variety of studies show it negatively affects your well-being.1 
For starters, scrolling through your phone can amplify existing anxiety and sadness. Ironically, it also makes you feel more isolated, as commenting on a photo is a poor substitute for, you know, talking to someone.
Social media also encourages you to compare every little detail of your life, yourself, and your values with carefully curated content from others. Even though we know nobody shares their worst moments online, those polished TikToks or golden-hour Instagram photos can still spark jealousy, low self-esteem, and a litany of other nasty side effects.
How do you cleanse your mind? Disconnect from social media — and turn off your news notifications while you're at it. 
Enjoy the Silence
Starting your day in silence is a simple way to nurture your mental health. In the early morning quiet, before your kids, partner or roommates get up, you can quiet your inner noise and fire up all sorts of brain sectors. Here are just a few ways to utilize early morning alone time:
Meditate

Take a walk

Practice your religion

Draw or doodle

Keep a journal

Drink a cup (or three) of coffee

 
No matter how you spend your relaxing time alone, you'll be cultivating mindfulness and giving your brain time to turn off autopilot and fully engage your emotions and ideas. 
Stockpile Some Daily Affirmations
For some, the idea of a daily affirmation is a little corny. To those people, we say, "You just haven't found the right source material yet." From books and card decks to a website full of your favorite band's lyrics, there are a variety of ways to get a daily wisdom fix. 
Still lost? Pick up a book of famous quotations or sign up for Poets.org's "Poem-a-Day" for new verses delivered straight to your inbox every a.m.2
Signs Your Mind & Body Needs a Detox 
One of the few good things about needing a detox is it's not hard to tell when you do. Experiencing any of the symptoms below? It may be time to hit your reset button:
Mood swings and irritability

Fatigue

Rashes, unexpected acne

Unexplained headaches

Lower back pain

Frequent colds

Trouble sleeping

Memory and concentration problems
Benefits of Detoxing Your Body 
Even if you eat relatively well, your body will benefit from detoxing, and here's why: It's gnarly out there! Every day, you're subjected to a plethora of environmental pollutants. Over time, those suckers build up. A full-body cleanse gives your body a refresh and helps all its systems operate at peak performance. 
Precisely what a cleanse does depends on its ingredients. Detoxify's herbal cleanses use powerful, herbal extracts to boost your body's natural cleaning power: 
American ginseng root reduces stress, improves mood, promotes sustained energy, and supports healthy blood glucose levels.

Burdock root, which supports the healthy circulatory, digestive and urinary systems

Uva ursi leaf, which minimizes bloating and supports urinary tract health

Milk thistle seed, which supports strong bones, healthy skin, and optimal liver function

Stinging nettle leaf, which promotes prostate and urinary system health and reduces muscle and joint pain
Starting a Body Detox 
One of the simplest ways to kick off a head-to-toe detox is with an herbal cleanse. Looking for a little more "oomph?" Try a multi-day reset or instead opt for a targeted digestive tract detox. 
Detoxify offers a variety of detox products that work with your body's natural cleaning processes to help you get the most out of your cleanse.  
Our multi-system herbal cleanses, for example, work with your circulatory, digestive and urinary systems to optimize detoxification for your entire body. We have options for one-day cleanses all the way up to a 10-day detox; your busy schedule is no match for our variety.
If your gut needs extra TLC, pick up some Polisorb. It's our digestive tract detox that flushes toxins out of your system in as little as 15 minutes. 
Even if your stomach isn't an attention-seeker, Polisorb is a great way to jumpstart a full-body detox and get the most out of your cleanse. Both it and our entire line of multi-system herbal cleanses are safe to take regularly, too. Maintenance is key to staying lean, mean, and thoroughly clean. 
Get Rid of the Bad Stuff, Fast Shop Detoxify's Cleanse Collection
How To Detox Your Home 
Don't take this the wrong way, but your home is probably dirtier than you think. We don't mean it's dusty or overrun with Paw Patrol pups; we mean there are probably toxic materials present. Here are three essential ways you can detox your home today.
Ditch the Plastic
Plastic may be convenient, but it's also terrible — for you, for the environment, for pretty much everything. Several common types of plastic contain BPA and phthalates, both of which may contribute to a range of health issues, including cancer. If you use them to reheat food in the microwave, the risk is more significant. Opt for glass or stainless steel instead.
Banish Toxic Household Cleaners
Ironically, a variety of household cleaners contain ingredients that can make you sick. The good news is, from dryer sheets to streak-free window spray, there are more options than ever before for effective, non-toxic household cleaners. New, all-natural cleaning brands are popping up left and right, while corporate powerhouses are beginning to offer household grime-fighters made from non-toxic ingredients, too. 
Go Organic in the Bedroom
It may seem like a luxury, but if you ask us, organic mattresses and sheets are a necessity. Many mattresses are made using polyurethane foam or petroleum-based polyester, both of which can discharge toxins. When in doubt, look for brands boasting Oeko-Tex certification so you can sleep easy knowing you're not subjecting yourself to harmful substances. 
You take your car in for regular maintenance. Shouldn't you treat your body better than a Toyota Camry? Keep your environment non-toxic and pencil a regular detox into your schedule to feel happier, healthier, and more at ease.
Resources
1 https://journals.plos.org/plosone/article?id=10.1371/journal.pone.0069841&mbid=synd_msnhealth