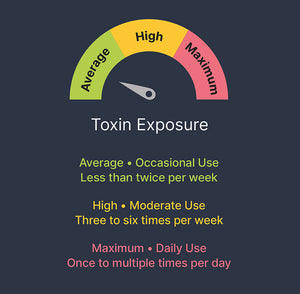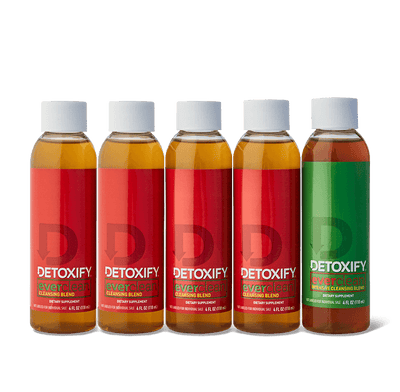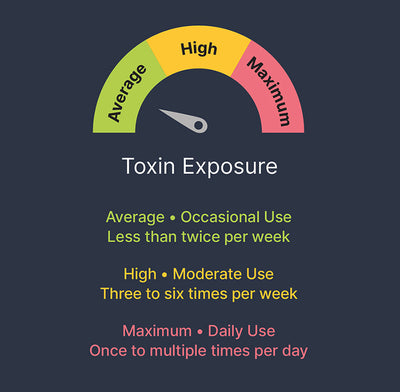 Orders $25+ Ship FREE
Ever Clean is Detoxify's 5-day herbal detox cleansing program to support long-term cleansing for a low to moderate toxicity cleanse. Powerful herbs reboot your cleansing system while vitamins and minerals replenish and restore. No endless days of juicing or fasting required. Enhanced with Green Tea and Metaboost.
Average toxin exposure
Long-term results
Urinary, circulatory, and digestive detox
Works indiscriminately on all toxins
Vitamins and minerals to replenish
Honey Tea Flavor
4x 4 oz. bottles Cleansing Blend and one 4 oz. bottle Intensive Cleanse
Days One (1) to Four (4):
In the morning, shake Ever Clean Cleansing Blend (red bottle) and drink the entire contents of the bottle. Follow with one 16 oz. glass of water.
Day Five (5)
In the morning, shake Ever Clean Intensive Cleanse well and drink the entire contents of the bottle. Follow with one 16 oz. glass of water.
Wait 15 minutes. Drink 32 oz. of water.
Every Day
Drink a minimum of eight 16 oz. glasses of water throughout the day.
Eat light meals including fruits, vegetables, and fiber.
Shop With Confidence
Buy direct from Detoxify.com and have your purchase protected by our 100% Satisfaction Guarantee.
Cleansing Tips
Set aside time for the cleanse process.
You will reach optimal cleansing levels 3-4 hours after completing the last step. Plan for frequent urination.
No mixing required, but follow directions.
Watch the clock and drink your cleanse and water at exact intervals.
Don't introduce new toxins while cleansing.
Allowing toxins in during the cleanse process will negativly affect your outcome.
How Detoxify Works
Fast cleansing when you have little time to spare.
Detoxify supercharges your body's natural cleansing process while replacing essential nutrients.
Proprietary formulations support a full body detox.
Detoxify's trusted brand of products are the only ones in the marketplace to remove toxins from your body including urinary, circulatory and digestive systems.
Designed to work safely with all levels of toxicity.
Whether you have average or high toxicity, all cleanses are effective in removing toxins and restoring balance.
Cleanse and water are taken at specific intervals
Your body's flushing capability is supercharged
Herbal ingredients aid cleansing while providing nutrients and benefits
Toxins are quickly eliminated through frequent urination
The optimal cleansing period is 3-4 hours
Detoxify works every time!
It's good for my body to do a detox from time to time. Worked perfectly. No problems. — Marshall
My results have been 100%.
I've used it for more than six months now. It's awesome. Drink a lot of water. — Kenneth
Great for cleansing the body.
I use Detoxify herbal cleanses as part of my ongoing self-care routine. — Cindy
Eating light meals including fruits, vegetables, and fiber will support your cleansing program. Studies have shown eating high-fat or fried foods will slow the detoxification process. Avoid heavy meals like steak and potatoes, and meals containing a lot of grease or that are high in fat.
If you're looking to cleanse and stay toxin free, Ever Clean's 5-day formulation reboots your body's natural cleansing abilities, targeting your circulatory, urinary, and digestive systems. Ever Clean is our only long-term herbal detox cleanse. Ever Clean is ideally for use as part of a monthly or periodic cleansing routine. So you'll feel the results of your cleanse for days.
The short answer: No cleanse is permanent. The long answer starts with whether you plan on reintroducing toxins into your system, and ends with how committed you are to your decision to eat clean, use clean products and live clean.
Ever Clean is specifically formulated to begin detoxing your body from the first sip. Combined with enough fluids, the formula behind this product has been time tested to help rid your body of toxins at a moment's notice. You should expect to reach your optimal cleansing period within three to four hours after completing the second step, or after urinating three to four times.
Ever Clean is best used after avoiding toxins for a minimum of 48 hours. Enhance your pre-cleansing period with Detoxify's Precleanse Herbal Supplement. Ever Clean helps to flush toxins at average to higher levels.
Both Ever Clean Cleansing Blend and Ever Clean Intensive Cleanse are formulated using a proprietary herbal blend including Burdock Root Extract, Milk Thistle Seed Extract, Stinging Nettle Leaf Extract, Uva Ursi Leaf Extract, Green Tea Leaf Extract. This blend of herbs targets and benefits different parts of your body primarily your urinary, circulatory and digestive systems.
Ever Clean is formulated to work indiscriminately on any toxin in your body.
Choosing your cleanse with Detoxify is easy. No need to worry about weight or BMI, choose your herbal cleanse based on the level of toxicity. Ever Clean is recommended for average to high levels of toxins.
The cleansing benefits of Ever Clean can be used periodically (once a month, quarterly, etc.) as part of your detox routine. Consult with your physician to discuss what is best for you.
Choosing a selection results in a full page refresh.
Press the space key then arrow keys to make a selection.