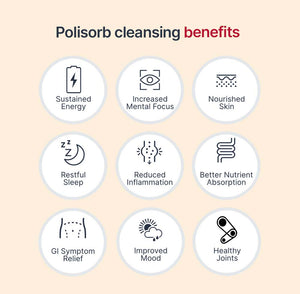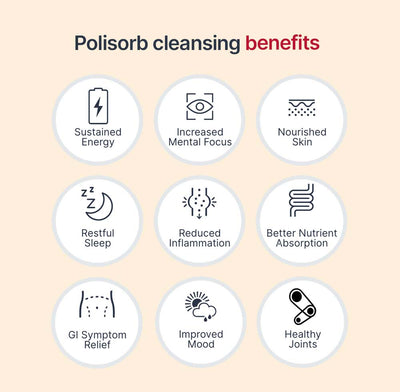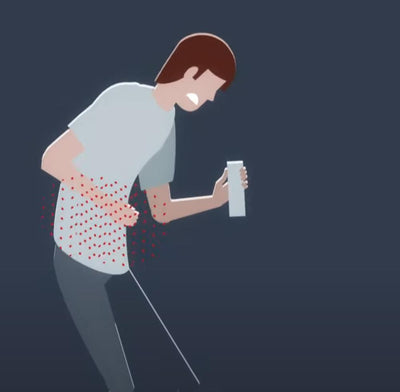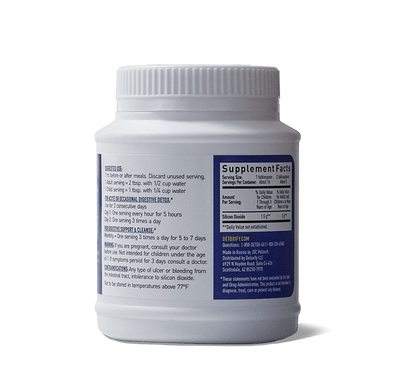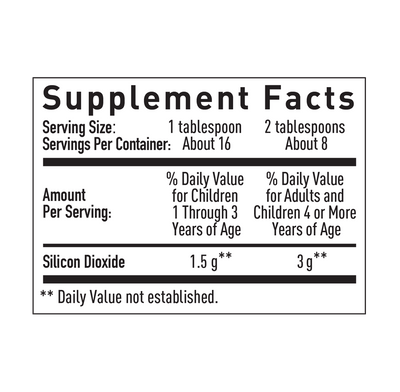 Orders $25+ Ship FREE
📢 Special Price for a limited time!
A jar for the medicine cabinet and two to cleanse. With the Polisorb Trio, you're prepared at the first sign of stomach discomfort. And two jars will help you complete the Polisorb digestive tract cleanse that removes harmful irritants and toxins from your system before they begin to cause discomfort.

Two (2) jars for a five-day digestive cleanse, PLUS one jar to use for any immediate digestive relief needs
Removes harmful bacteria and irritants that lead to digestive discomfort
An easy way to reset your gut health, without starving or drinking juices all day!
Tasteless Silcon Dioxide
FREE from gluten, dairy, egg, peanut, soy, shellfish, tree-nut, fish, wheat
Non-GMO, Sugar Free, Vegan, No additives
Three (3), 25-gram jars of Polisorb
As a five-day periodic digestive tract cleanse, consume one serving three times a day for five to seven days. Polisorb should be taken one hour before or after meals. And at least two hours before or after taking any supplements/medications.
> General Polisorb Directions
Adults and children can take Polisorb at the first anticipation or signs of stomach discomfort including gas, bloating, bubbling, or any other digestive tract issues. You will feel relief in as little as 15 minutes. And it's so easy.
For adults, mix 2 tbsp. in a 1/2 cup of water and drink. For kids, mix 1 tbsp. with a 1/4 cup of water. You can use any other clear liquid, or add a squeeze of lemon if you prefer.
You can continue to take a serving hourly for five hours on day one and one serving three times a day on day two if symptoms persist. For best results, make sure that you are hydrating well throughout the day.
Shop With Confidence
Buy direct from Detoxify.com and have your purchase protected by our 100% Satisfaction Guarantee.
Digestive Detox Uses
Acute and periodic symptom relief.
Polisorb minimizes downtime, quickly relieving digestive discomforts in as little as 15 minutes.
Easy to take, and safe for ages over one year.
Feather-light tasteless powder mixes easily with water. Best taken one hour before or after meals.
Benefit from ongoing gut cleansing.
Prevent digestive troubles from starting, increase energy and improve your overall skin health to name a few.
Polisorb's detox process supports you naturally, without any harmful side-effects.
The single mineral ingredient, Silicon Dioxide, is naturally derived and is used as an enterosorbent; that's fancy science to explain Polisorb's unique process.
Polisorb enters
the digestive tract
to quickly locate
and target toxins.

As it makes its way
down, it expertly
attracts and binds
to toxins like a
magnet.

Polisorb exits the
body naturally as
waste, with nothing
being absorbed or
left behind.
Never go on a trip without it.
I was amazed at how fast and well it helped me after eating something that didn't agree with my digestive tract. — Steven
100% satisfied! Polisorb works very quickly.
Doesn't have any side effects. I use it for my whole family, kids and adults. — Sharon
Polisorb's a revolutionary product!
I use this regularly to detoxify and cleanse and it's helped me so much. — Staci
Polisorb is a single-ingredient product that works better than charcoal or the pink stuff, and can also work as an easy and effective digestive tract cleanse. Polisorb travels through your digestive tract collecting irritants and toxins like a magnet and uses your body's natural cleansing process to eliminate them as waste.
The one and only active ingredient in Polisorb is pure, Silicon Dioxide — a naturally occurring compound composed of Silicon and Oxygen, the two most abundant chemicals on Earth. Silicon dioxide is found in nearly all living things, including our own human tissue.
Polisorb quickly provides relief from foodborne reactions, upset stomach, toxic overload, digestive discomfort, gas, bloating, overindulgence, and children's tummy aches.
While Polisorb provides fast, effective relief from a variety of digestive disorders, it does not help with constipation.
Silicon Dioxide is produced from the interaction of Oxygen and Silicon. Silicon Dioxide can be obtained from various natural substances.
Choosing a selection results in a full page refresh.
Press the space key then arrow keys to make a selection.