Detoxify's Mega Clean vs. XXtra Clean: Which is Right for Me?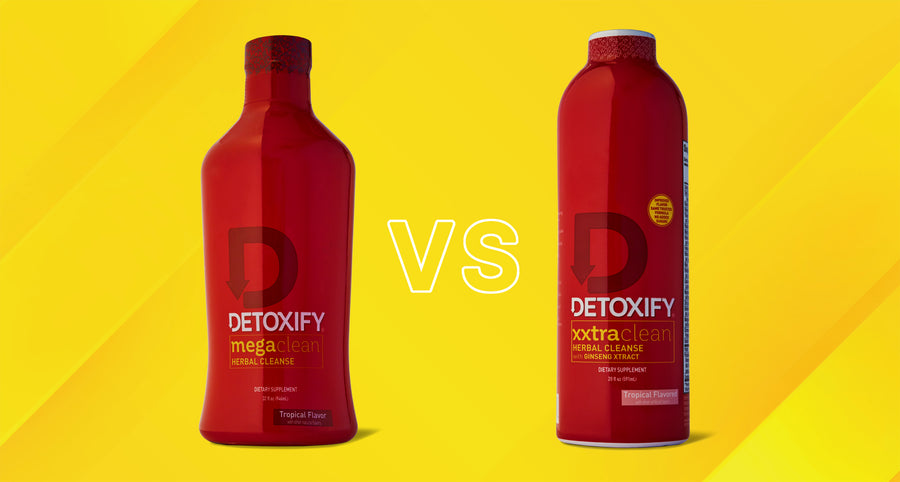 Mega Clean is best when you need high detoxification power. Alternatively, XXtra Clean flushes average level of toxins and provides added benefits of healthy, sustained energy and improved mood.
↓
share
Your body has a natural detoxification process related to kidney and liver function. Pretty cool, right? Even more amazing is boosting your system's performance. Detoxifying your body doesn't have to stop at the natural, automatic processes your body does on it's own, and, we believe, it shouldn't. With toxins in the environment and a cheat meal or two, your body can always use a little help. 
Two products offered by Detoxify could be just the solution to your detoxing dilemma: Mega Clean or XXtra Clean.
What is Detoxify's Mega Clean?
Mega Clean is a robust herbal cleanse in delicious tropical fruit or grape flavored options. Formulated to work indiscriminately on any toxin in your body, Mega Clean can help flush your body of the high level of toxins. The cleansing results of Mega Clean are short-term. While you can use this for one-time needs, we suggest Mega Clean as part of a monthly or periodic cleansing routine. And, the single, 32 oz. bottle contains added vitamins and minerals to replenish those you'll lose during your cleanse.
While Mega Clean is a powerful single-day cleanse, it works best when paired with Detoxify's Precleanse Herbal Supplement and 48 hours of abstaining from toxin intake. 
The Precleanse boosts Mega Clean's effectiveness by rinsing your digestive system before use. While using the Precleanse, you'll want to increase your water intake, taking one capsule with 16 oz. of water six times per day for up to three days before starting the cleanse.
When performing a cleanse, it's crucial to actively stay hydrated and eat light meals. Your meals should consist of fruits, vegetables, and fiber to ensure maximum energy levels and health. Studies have shown eating high-fat or fried foods will slow the detoxification process, so be sure to avoid the drive-thru and grease.
Mega Clean requires you to drink the bottle's entire contents and, after waiting 15 minutes, refill the bottle with water, shake, and drink. You will know Mega Clean is working if you experience frequent urination — approximately three to four times, this is typically three to four hours after finishing your cleanse.
Remember, when doing any cleanse, it is crucial to follow the directions. Failing to adhere to the directions can lead to an inadequate detoxification process.
What is Detoxify's XXtra Clean?
Detoxify's XXtra Clean Herbal Cleanse is a periodic cleanse product that can help jumpstart your body's natural detoxification process. Along with the detoxification benefits, the American Ginseng Root Extract in XXtra Clean helps to support healthy, sustained energy, while helping to reduce feelings of stress and improve mood. Coming in a 20 oz. bottle, the tropical fruit-flavored wonder contains American ginseng root extract for a natural caffeine source. As with Mega Clean, you will see the best results when XXtra clean is paired with Precleanse.
Additionally, as a periodic cleanser, XXtra Clean pairs well with another digestive tract cleanse, Polisorb, for a healthy and productive detoxification routine. As with any other detox or cleanse, you must adhere to hydration recommendations and eat light meals consisting of fruits, vegetables, and fiber to achieve the best results. You will also want to continue with a healthy exercise regimen to keep your body strong and achieve optimal results.
When to use Mega Clean vs XXtra Clean
Choosing a detox is about understanding your specific needs. For example, both Mega Clean and XXtra Clean are excellent same-day cleanses enhanced with the use of Precleanse. And both are perfect periodic cleanses for those who want to make detoxifying cleanses a more routine part of their dietary plan. 
Mega Clean is best when you need high detoxification power. Alternatively, XXtra Clean flushes average levels of toxins and provides added benefits of healthy, sustained energy and improved mood. 
Regardless of the cleanse you choose, Detoxify is a leader in dietary cleanses and digestive supplements, so you can't go wrong. However, as with any supplement or dietary change, it is wise to consult your primary care physician.
Are you interested in a dietary cleanse but confused about where to begin? We've created
this chart
with three easy steps for choosing the Detoxify brand product right for you.